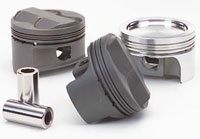 Supertech - High Performance Pistons w/Rings
Includes Pins & Wire Locks
Mitsubishi

More than 40 years of experience in the design of racing pistons and the utilization of the latest CAD software & Finite Element Analysis (FAE) enables us to design strong high performance and yet light pistons for each application.

Compression ratio was computed with .030" head gasket and .010" deck.
A phosphate dry lubricant coating is applied to most of the pistons to protect against ring micro welding and enhance skirt lubrication.

Our pistons are manufactured from extruded high silicon, enhanced 4032 alloy (with additional Cu, Ni & Mg) that has low thermal expansion, excellent wear resistance and higher thermal conductivity.

The pistons are submitted to several machining steps in specially designed machines and in conventional CNC machines with special diamond tools for dimensional precision, perpendicularity and flatness of the ring grooves.

Features:
Forged from enhanced 4032 alloy and CNC machined
Contact reduction grooves are standard.
Honed & reamed pin bores for precise fit.
High tensile strength and evenly distributed hardness.
Pins and wire locks are provided with the pistons.
Withstand up to 42psi of turbo boost, w/alcohol, w/o any problems
A 2 or 3 forging steps process yields a fine structural grain oriented in fibers in the same direction of the stresses.
Wrist pins are constructed of cold extruded chrome moly steel for high strength to be used with wire clip locks
Quality Control: is performed after every step of the manufacturing process in climate controlled environments to ensure reliability of dimensions
Rings w/purchase of Pistons: (rings must be purchased separately)
4 Cyl. Set
$79
6 Cyl. Set
$99
Rings purchased alone:
4 Cyl. Set
$109
6 Cyl. Set
$129
These pistons are not available until February 1st. 2023.