Home l Hot Products l Machining l Contact Us
Ferrea Valves
Competition Plus Hollow Stem Valves
Mitsubishi

Ferrea made available the Lightweight Hollow Stem Valve for Sport Compact applications. Our manufacturing process emphasizes the interior finish of the hollow stem using gun drill and micro polish techniques. The valves also feature seat hardness for longer life in this critical area, avionics chrome plated stem, radial groove, friction welded tips and Super Flo stem to improve the flow design. This lightweight valve achieves higher rpm's to improve the combustion cycle and obtain more HP.
Mitsubishi Eclipse GS-GST 2.0L - DOHC 16 Valve (4G63-4G63T) 1990-1999
Mitsubishi EVO8/9 1990-2007
Part #
Type
Head
Diam
Stem
Diam
Overall
Length
Tip
Length
References
Price
Per Valve
Buy Now
F1080P
I
34 mm
6.57 mm
109.7 mm
3.8 mm
20° Super Flo Stock size
$33.99
F1073P
I
35 mm
6.57 mm
109.7 mm
3.8 mm
20° Super Flo +1 mm o/size.
$33.99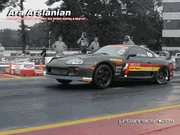 Ara Arslanian from Bullish Motor Racing recorded
first 6-second run in Sport Compact history.
Best time 6.86 ET at 202 MPH using Ferrea Valves!
---
Order/Tech Line: (603) 378-0090
Email:

[email protected]



Thank You for visiting Import Performance Parts
*All prices on this site are subject to change without notice. Import Performance Parts™ disclaims responsibility for any printing or typographical errors, and does not guarantee that all information is accurate.

home | FAQ | contact us | can't find a part? | hot products | links | site map

Visit www.Tuner-World.com
Our HOT Import Enthusiast Site!