Stage 1
(Image May Not Be Vehicle Specific)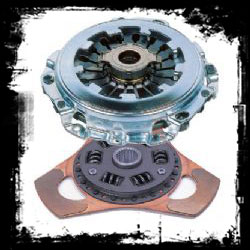 Stage 2
(Image May Not Be Vehicle Specific)
EXEDY Stage 1 & 2 Clutch Kits
Eagle



Stage 1 Organic Clutch Kits:

For Street & Light HP Track Use
EXEDY organic racing clutches only use premium friction materials that are resistant to slippage and burst. Increased clamp loads give the necessary capacity to handle modified engines. This is the preferred clutch for street and light horsepower track use. Driveability is similar to the stock clutch. Pedal efforts will be slightly higher because of the higher clamp loads. All of our clutch discs have spring center dampers to reduce drivetrain shock.



Stage 2 Cerametallic Clutch Kits:

Demanding Apps & Track Use
EXEDY cerametallic clutches are designed to handle the abuse of high powered modified engines. Our cerametallic friction material can handle much more slippage than stock type disc assemblies without slipping and fading. All cerametallic discs feature spring center dampers to reduce impact and shock loads.

We offer two types of cerametallic discs:
* Normal Thickness (Thick)
* Reduced Thickness (Thin)

Normal thickness (Thick):
These discs have greater heat capacity and therefore better durability in demanding applications such as all wheel drive.

Reduced thickness (Thin):
These discs offer greatly reduced inertia to improve shift efforts and improve synchro durability. These discs are approximately 1/2 the thickness of a stock disc and are recommended for track use only.

NOTE: Stage 1 & 2 Clutch have 10-30% Higher Pedal effort than stock due to higher clamp load.
N/A = Not Available at this time.